Status: finished
Supervisor: Martin Kampel

Problem Statement & Goal
We recorded 9 weeks of behaviour data in a prison. The data contains range data of persons in a prison cell. Certain behaviours could be automatically detected, a manual behaviour classification has been done.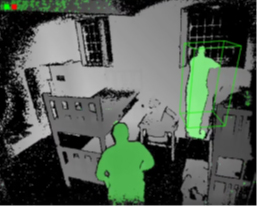 The goal of this practical work is as follows:
programming a viewer for the data
(rough) data categorization
Identifying bahaviour patterns for automatic recognition
The subject is open to consecutive activities like bachelor or master thesis.
Send me an email for more information: martin.kampel@tuwien.ac.at