SYMETRIC
(SYstematic MEasurement of TRacks and Infrastructure Components)
Several railways modernization projects Europe-wide are currently in the planning and rollout phase. These modernizations focus on the replacement of outdated relay-based interlocking blocks by solid state interlocking blocks, as well as the rollout of ETCS Level 2 (European Train Control System). The planning and design of the safety-critical system ETCS Level 2 also requires, among other things, knowledge about the track topology (signals, switches, danger spots, Eurobalises, etc.) at meter-level accuracy. Nowadays, track elements require resource-intensive manual survey. The initial acquisition of track topology data is a manual process as well, resulting in higher error than in automated processes. So far, there exist no product on the market, as reliability and performance are the main challenges for the introduction of such automated processes.
Goal and innovation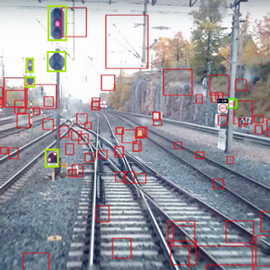 The main goal of the project SYMETRIC is to automize the aforementioned processes. Advantages over manual data processing include the avoidance of human error and increased cost-effectiveness. Furthermore, automatic surveying can take place during ongoing operations on a common high-speed traction unit. As a result, end users benefit from resource-efficient track surveys and the avoidance of costly processes such as closing tracks, diversion of railway traffic, etc.
The innovative approach of SYMETRIC features the automatic detection and localization of track topology elements during post-processing and their annotation with attributes such as type, absolute position, and recognition confidence. The final processing takes place by means of an innovative, semi-automatic Tool. After a verification by the end user, the complete track topology is available.
Project Consortium and Partners: