Status: taken
Supervisor: Sebastian Zambanini
Problem Statement
Shadows cast in remote sensing images complicate their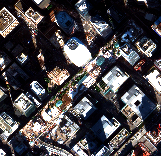 analysis due to the low contrast in the poorly illuminated image regions. Shadow removal/compensation methods aim at automatically reducing shadow effects, either by a physical or learning-based  model.
Goal
The goal of this work is to explore and examine methods that can be used to automatically enhance shadow regions in satellite images.
Workflow
Literature Review – getting to know the algorithms
Data Preparation
Implementation
Evaluation
Written Report/Thesis and final presentation
Literature
[1] N. Salamati, A. Germain and S. Süsstrunk, Removing Shadows from Images Using Color and Near-infrared, Proc. IEEE International Conference on Image Processing (ICIP), 2011
[2] V. Kwatra, Mei Han and Shengyang Dai, "Shadow removal for aerial imagery by information theoretic intrinsic image analysis," 2012 IEEE International Conference on Computational Photography (ICCP), 2012.